Ready for Winter? Kids Can Help AND Learn Some Science

We know you're busy, and getting your house and yard ready for cold weather is a chore. But what if you could multi-task and get the kids involved in a learning adventure? Now you're not just checking the furnace: You're teaching your children about physics! Wow, you must be the Best Parent Ever. Your kids are smart and warm! Follow our ready-for-winter checklist and you'll get completely prepared while your kids can learn about real-world science.
Click each of the items in the checklist (or just scroll down) to see the science behind it! 
The Checklist
---
√ Check your furnace filter.
The science: Filters capture tiny particles in the air and trap them so you're not inhaling them, so that's good. But as the particles get trapped, that reduces airflow from the radiator, preventing the heat from dispersing. When enough air is blocked, the furnace won't operate correctly because it's fooled into thinking that your house is really hot, just like the air that's stuck behind the dirty filter.
√ Bleed your radiators or blow out your sprinkler systems.
The science: Depending on where you live, you may have either or both tasks on your list. You can explain that the water and air can't occupy the same space, and that's why you need to do this task. For a sprinkler system, fall is a good time to remove any residual water that could cause damage over the winter. Radiators heat older homes with hot water, but at the beginning of the season, there's often air trapped in the pipes that will block the hot water from moving into the radiator and heating your house. Your child can help twist open the valve (probably after you've loosened it) and see or hear the air getting expelled.
√ Collect seeds from your garden.
The science: Even the youngest kids have probably learned about seeds and how they grow into plants, but collecting seeds from mature plants will help them see that circle of life complete. Plus you'll be ready for spring! Here are some instructions on collecting and saving some common vegetable seeds or flower seeds.
√ Put on your tire chains or snow tires.
The science: Adding chains to tires helps increase the friction between the tires and icy roads, which maximizes traction and makes it harder for the tires to slip. Snow tires are made with more rubber than warm-weather tires, which makes them softer and more flexible so that they can grip ice and snow. In either case, you can compare kids wearing snow boots vs. slick dress shoes.
√ Rake the leaves.
The science: While you're raking the leaves, you can talk about how trees' leaves change color as they lose chlorophyll, the substance that makes leaves look so green. Chlorophyll uses sunlight, and as the sunlight diminishes, the green fades out and you see the other colors that are left behind. After leaves have fallen from the trees, they've lost their supply of water and they gradually become crunchy. If you procrastinate with a leaf pile, you can point out how the leaves are beginning to break down and become part of the soil.
√ Clean out your gutters.
The science: Like the radiators, here's another example of how two different objects can't occupy the same space. You might ask your child why they think the gutters need to be cleaned out and what will happen to the water if it is blocked by leaves. Then, as you're cleaning the gutters, you can point out another important force: gravity!
√ Buy some ice-melt.
The science: If you live someplace icy, it's likely that you keep a bag of rock salt to help keep your sidewalks or driveway slippery. When salt combines with water, it causes a chemical reaction that lowers the freezing point of water, thus melting the ice and snow it touched. However, sodium chloride can also be harmful to plants and corrode substances, including cement. It can also hurt pets—irritating their paws or stomachs if it's ingested through straight eating or licking paws—so many pet owners prefer to use rock salt sparingly or not at all.
√ Seal windows and doors.
The science: If your house is already warmer than the outdoors as you're checking that all windows are properly closed and weather stripping is in place, kids can literally feel how cold air sinks by putting their hand against the window sill.
√ Do lawn maintenance.
The science: If you want a healthy lawn in the spring, now's the time to act. Aerate the soil to combat compaction. Aerating pulls up little plugs of soil to loosen the soil overall and allow space for roots to grow and flourish. Spreading fertilizer helps strengthen plants and fortifies them so they can last through the winter, and you can explain that even if grass has stopped growing, the roots remain alive out of sight under the soil. Spreading grass seed will help these plants to take hold before the weeds set in, so you can explain about how living things compete for resources.
√ Protect water pipes.
The science: Water actually expands when it freezes, so it's important to drain and shut off outdoor pipes to prevent damage. Otherwise, the pipes can burst. If you're concerned about interior pipes freezing, you might choose to add insulation around the pipes. You can also explain to kids that when it's very cold you might take other precautions, like ensuring that bathrooms close to exterior walls are well-heated or turning on the faucets periodically to ensure water is still flowing.
√ Wax your sleds or skis.
The science: If you own skis, you know this is annual maintenance to keep them in good shape. But the good news is that smooth surfaces mean less friction, and less friction means more speed! If you have skiers in your family, you're likely to have special wax to lubricate skis. But the wax of a candle stub does a fine job lubricating sled runners.
√ Plant bulbs for spring.
The science: Flowers like tulips and daffodils need a long period of cool dormancy in order to be prepared to bloom in the spring. They take this time to develop stronger root systems. When the soil begins to warm after the winter months, these plants begin the biological process of flowering. So there's a lot of growth going on underground, out of sight.
√ Put that ice scraper in your car.
The science: Okay, it's obvious that ice on your windshield will need to be scraped away. But you can take the opportunity to explain how the car's defroster works, too. When you turn on your car's defroster, it directs warm air directly at the windshield. If there's ice or snow, that warmth will help to melt it. If the interior of the car's windshield looks foggy, that's because there's condensation—tiny droplets of water—on the windshield because of the difference in temperature between the car's interior and exterior. The defroster pushes dehumidified air at the condensation, which helps to absorb and dissipate the droplets and eliminate the fogginess.
√ Clean out your fireplace.
The science: As fires burn, they can leave behind residue and creosote, or partially-burned wood. This can produce blockages or it can be combustible, making fires in your fireplace hazardous. Cleaning out the flue will also allow smoke to rise freely out of your home. When you build your fire, there's plenty of science as you watch the smoke rise. You might explain that you need sufficient warm air to push the cold air in the chimney out of the way or, on a windy day, you can show how drafts can trap smoke and force it back into your living room.
√ Can some of your garden harvest.
The science: Growing food in your garden is excellent hands-on science, and so is canning. You can explain to children how heat kills the molds, yeast, and bacteria that cause food to spoil. Then, in order to keep all of these out, the canning process must seal the food in and all of those possible spoilers out to keep the food fresh.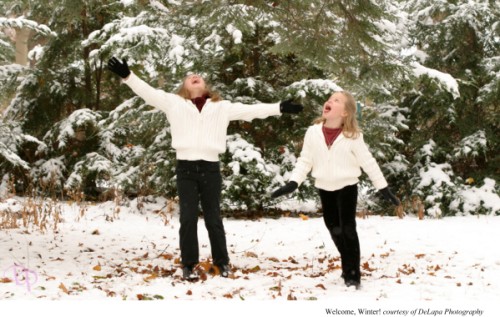 Job well done! Now your home is ready for the cold weather, and your kids are learning to see science all around them. Sit back, drink a cup of cocoa, and relax until it's time to go learn about gravity (sledding).
---
© 2016, KidsOutAndAbout.com
The KidsOutAndAbout.com staff pooled their To-Do lists and their brainpower to come up with this list.