KidsOutAndAbout interviews Linda Sue Park, author of TRUST NO ONE
TRUST NO ONE
39 Clues, Cahills vs. Vespers series
by Linda Sue Park
Published by Scholastic, Inc.
---
KidsOutAndAbout: Congratulations on the release of your second 39 Clues book! TRUST NO ONE is the fifth book in the second series, Cahills vs. Vespers. What is the general plot of this second series, and what challenges are Amy and Dan facing as TRUST NO ONE opens?
Linda Sue Park: In Cahills vs. Vespers, Dan and Amy must lead the united Cahill clan against a powerful global menace: the Vespers. The Vespers have kidnapped several of Dan and Amy's friends and loved ones. The Vespers threaten to harm the hostages if Dan and Amy don't do exactly as ordered. In each book, the Cahill siblings face a series of near-impossible tasks to satisfy the Vespers' demands, each task centering on a famous historical artifact.
KidsOutAndAbout: You're not the only famous author who is participating in crafting this series; Rick Riordan started the ball rolling, and then other authors such as you, Peter Lerangis, Jude Watson, and Gordon Korman continued the story. Are the same authors participating from the last series, or are there some new faces?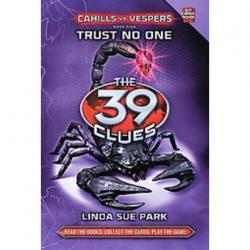 Linda Sue Park: Jude, Peter, and I wrote books in the first series. This time we're joined by Roland Smith and David Baldacci.
KidsOutAndAbout: When a series is written by many authors, what is the process? How do you keep plot and character continuity?
Linda Sue Park: Our linchpin is the series editor, Rachel Griffiths, along with others in the Scholastic editorial office. Rachel helps keep us all on track; we spend a lot of time on the phone and writing e-mails back and forth.
KidsOutAndAbout: Was the process of writing TRUST NO ONE different from the process of writing STORM WARNING, your first 39 Clues book? How long did it take you?
Linda Sue Park: Each book took me about six to eight months to write, and then another couple of months of revision with Rachel. That's a tighter deadline than I'm used to, but it was also nice in a way, that the process didn't take as long as it usually does!
KidsOutAndAbout: In your other books (some of our family favorites are PROJECT MULBERRY and KEEPING SCORE), you are able to dig fairly deep into your characters and show us their personal motivations and how they change and grow through the story. Your characters typically become our friends. Is it fair to say that in adventure stories like the 39 Clues series, the characters must be a bit more superficially drawn because the story is so plot-driven? And yet, in STORM WARNING, it felt to readers—at least it did to me—as though you were able to get inside Dan and Amy's personalities. You colored in their characters between the lines. I'm wondering if that's actually your role as an author in the series… to help young readers develop emotional ties to these characters.
Linda Sue Park: In both series, I wrote the penultimate book. Rachel felt that these books should be the emotional climax of the series arc, with the plot climax occurring in the final books, of course. I love getting deep into a character's psyche and showing how they wrestle with problems, so this was one of my 'assignments' for each book, and it really suited me.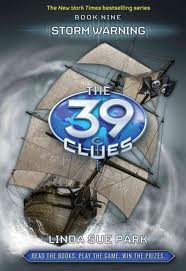 KidsOutAndAbout: I love how much my kids learn about history, geography, and culture as they follow the exciting adventure story. Each book sets them in a different place in the world, and I imagine that one of the challenges for each author is to place the characters authentically in that place. In STORM WARNING, Book 9 of the original 39 Clues series, you placed Amy and Dan in the Caribbean. Where are they in TRUST NO ONE? What was it like to research the setting?
Linda Sue Park: TRUST NO ONE takes place in Brazil, Connecticut, and New York City. I've visited each of the places Dan and Amy go to in the book. Rachel and I even took a special 'field trip' to the Beinecke Library at Yale University in New Haven, Connecticut. We got to look through the Voynich manuscript, which is more than 600 years old! It was awesome! There's a character named Dr. Kathryn James in the book, and she's based on the person at the Beinecke who showed us the manuscript.
KidsOutAndAbout: There were 10 books in the first series; how many will there be in Cahills vs. Vespers? Do we know release dates yet? Will there be yet another series after this one?
Linda Sue Park: Cahills vs. Vespers will be six books total. TRUST NO ONE is Book 5. DAY OF DOOM, Book 6, by David Baldacci, will be published in March.
And beginning in the fall of 2013, there will be a *third* series about Amy and Dan, called 'UNSTOPPABLE.' But I'll be taking a break from the series and letting other authors have a chance to write these stories. I hope they'll have as much fun as I did!
KidsOutAndAbout: Thanks so much for spending some time with us, Linda Sue! Best wishes for all of your future work!
---
Visit Linda Sue Park's web site at lindasuepark.com. Follow her on Facebook here.
Read a lot more about the 39 Clues Cahills vs. Vespers series at the39clues.com.
---