Don't Just Give It: Live It! Ideas for Kids' Gifts That Aren't Toys
by Katie Beltramo
As you're making your list and checking it twice, these ideas will help you think of kids' gifts outside the toybox.
Ideas for Gifts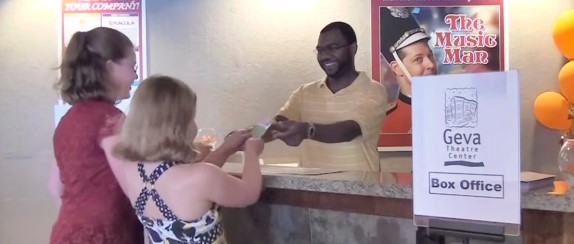 Tickets. You might choose a concert, a play, or a sporting event. If you're feeling extravagant, you can even purchase a season's theater subscription or season tickets for your local team.
A Party. Team up with the family and plan a cousins' party at a special location. Make it a sleepover at a hotel, a party venue, or even a local museum.
Craft Projects. Purchase supplies for a special craft project and set a specific time to do it. Or offer up a gift certificate for an arts studio or paint-your-own pottery place. This is another gift that's great for a group to do together.
Memberships. Buy an annual family membership to your local museum, zoo, or aquarium. You'll get free admission all year as well as other perks. Keep in mind your favorite destinations, and check for reciprocal programs (like the ASTC Passport Program) whenever you travel. You can wrap up a little plastic animal or an art postcard to symbolize the larger gift.
Magazine subscriptions. Kids love getting mail, and it's lovely to spread the joy throughout the year. Pick something that will encourage kids to do something great: read. And if your recipient is already a terrific reader, choose a magazine that will foster curiosity about science, history, or cultures beyond their own. At our house, we're huge fans of New Moon Girl, and Parents' Choice offers a list of other terrific choices.
Season passes. Whether it's a ski resort, a water park, or a national parks annual pass, the whole family will appreciate this gift multiple times throughout the year. Winter is a great time to purchase passes to summertime attractions, because they're likely to offer early bird specials.
Food. Buy a fruit-of-the-month club membership or gift cards to favorite restaurants. If your child likes to cook, try a cooking class or cool cooking supplies.
Outings. Gift passes to play mini golf, rock climb, climb through a ropes course, or anything else that will make an ordinary day extraordinary. Want to make unwrapping more fun? Wrap up a mini-golf pencil, a box full of pebbles, or a piece of rope and challenge the recipient to guess the outing. You can take it to the next level, too, and put your gift budget toward a family vacation.
A Family Basket. Pick a theme and gather up materials for some great family togetherness time.
Movies:  DVD or two, popcorn & candy, a cozy blanket to snuggle under.
Writers' Club: A lovely journal and pen for each member of the family, or a sketch pad and markers for little ones who'll tell stories in pictures, plus a list of writing prompts (you'll find some here and here.)
Campfire fun: a firebowl, skewers, the makings for s'mores, and camp chairs.
Game Night: games, some peppy tunes, and snacks. One of our family's favorite games is Sleeping Queens, or check out the Games Magazine Hall of Fame for game ideas.
A Filled-In Calendar. Take a store-bought calendar and fill in special dates your child will appreciate.You might plan parent-child dates, game nights, a spa day, visits to their favorite places. Create a spot where the child can fill in a list of things they'd like to do with you in the next year.
Musical instruments. Whether it's a xylophone, a harmonica, or a ukulele, just having the musical instruments in the house will encourage kids to literally fiddle around.
Sporting or Outdoor Equipment. If you're buying for a child who's already heavily involved in a sport, ask the coach or gung-ho parents about practice equipment or the most sought-after accessories. Is your child outgrowing their bikes, ice skates, or scooter? Do you like to hike? Think about camping equipment or a certificate for a kayak rental.
---
© 2014, Katie Beltramo Katie Beltramo, a mother of two, is Editor of KidsOutAndAbout.com Albany and blogs at Capital District Fun.